Block websites?! Jamais!
TODAY, May 27th, is the national Day of Action against the government's plan to bring website blocking to Canada!
The government is taking marching orders from media giants like Bell; they want to force your ISP to BLOCK access to many websites — all in the name of copyright!1 🤢 The goal of the Day of Action? To put a stop to this dangerous proposal.
We need to make as much noise as possible on social media about what's happening as we can, and let our elected representatives know we're against website blocking before the consultation closes!
Here's what you can do:
Change your profile picture for today on social media, so others notice and learn more about the day;
Share the Day of Action share images and posts on your social media;
Share your thoughts on the risks of this proposal using the hashtag #NoSiteBlocking;
If you haven't already, send a message to the government using our consultation tool.
Will you join us today for the national Day of Action to stop government website blocking? Just visit our central Day of Action hub website to get started! TAKE ACTION RIGHT NOW AGAINST WEBSITE BLOCKING
On April 14, the federal government launched a "Consultation on a Modern Copyright Framework for Online Intermediaries". In their accompanying policy paper, the government suggests giving itself sweeping powers to create enforceable website block lists, shutting off access to any parts of the web accused by rights-holding media giants like Bell Media and Corus Entertainment of hosting content that infringes on their copyright.2
But that's just the start of the censorship that could be coming our way.
According to the proposal, intermediaries like ISPs and libraries could lose many of the protections they currently enjoy from frivolous lawsuits from rights-holders, exposing them to considerable legal risk — and giving ISPs a reason to disconnect Internet users and treat them as liabilities.3
This wildly overreaching proposal treats us all like potential criminals. It is disproportionate, unjustified, and open to abuse. The OpenMedia community has already stepped up to stop this terrible proposal before, back when it was Bell's idea4 — and with your help today, we can do it again.
Today's Day of Action Against Website Blocking will only be as successful as YOU make it! So please join in, take action, and share with your friends and family. Everything you need to participate can be found here, at https://www.dontblock.ca. Will you join us right now to put a stop to the government's website blocking proposal?TAKE PART IN THE DAY OF ACTION NOW!
Thank you for all that you do,
Matt at OpenMedia
P.S. To make things easier for you, I'm including the Day of Action profile picture right here in this email. To download and use the profile picture today, right-click on the image and save it to your computer. If you are on mobile, tap and hold on the image to bring up options to save it to your phone's Camera Roll/Gallery.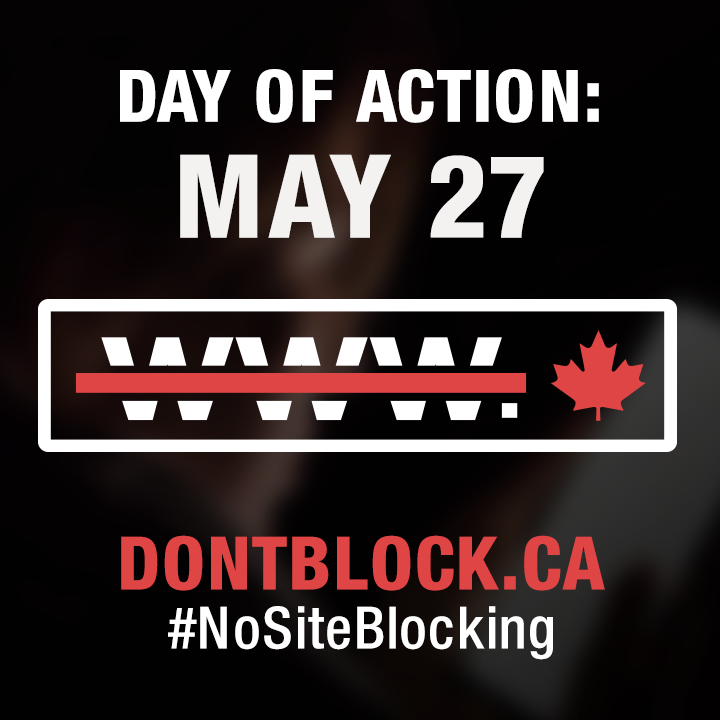 P.P.S. If you haven't already, visit the Day of Action hub for more information and ways to take action.
Sources
Beyond C-10: Inside the government's plan to suspend Internet users and block website access – OpenMedia
Consultation on a Modern Copyright Framework for Online Intermediaries – Government of Canada
See 1
The reboot no one asked for: Trudeau is reviving "FairPlay", Bell's failed website blocking plan – OpenMedia




Leave a Comment so far
Leave a comment